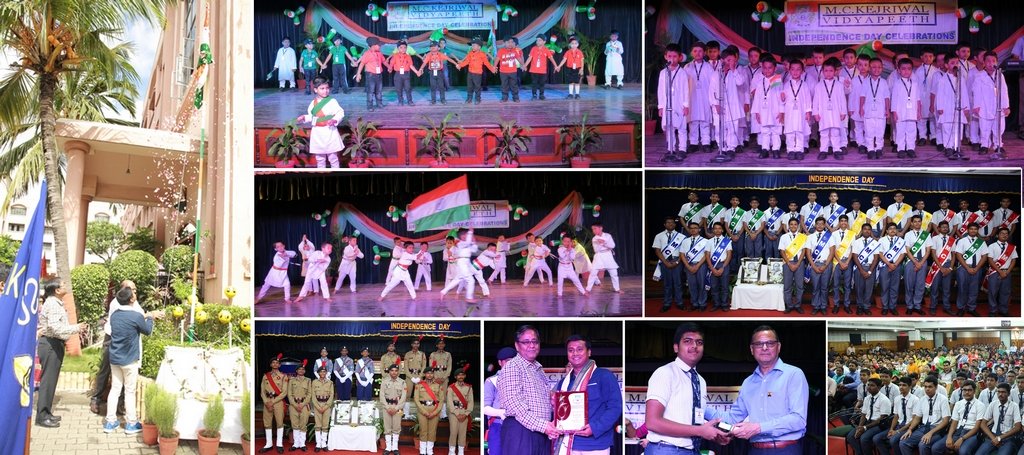 'Today we are living freely because many sacrificed their lives for the sake of our country.' Remembering those heroic souls on this auspicious occasion, M.C. Kejriwal Vidayapeeth celebrated the 72nd Independence Day with lot of fervour and enthusiasm. The programme commenced in the school's basket ball ground at 9 a.m. with the welcoming of the Chief Guest, Mr. Rimo Saha, an International Para swimmer, who  proudly represented India at various National and International championships. The other dignitaries were also welcomed. To honour the contribution of our great freedom fighters, the Chief Guest along with the Vice Chairman, Mr. Kishan Kumar Kejriwal and Principal, Mr. Neelkantha Gupta, hoisted the National flag and all in unison sang  the National Anthem.
The remaining part of the programme took place in the Malay Manch, the school audtirorium. The programme started with an invigorating speech by the School Captain, Sanskar Jhajharia. This was followed by a beautiful patriotic song ' O Aamar Desher Mati', which resonated in our hearts expressing the joy of freedom. Thereafter, the oath taking and the investiture ceremony were conducted where the chief guest, Mr. Rimo Saha along with our Vice Chairman, Mr. Kishan Kumar Kejriwal and Principal, Mr. Neelkantha Gupta draped our newly appointed student representatives with a ceremonial sash bearing the badge of office, and invested them with the authority inherent in their respective appointments. The other highlights of the programme  were the prize distribution for co-curricular activities held in school and the Pariwar Milan Patriotic Song Competition followed by a mellifluous instrumental presentation. The inspiring  words of the Chief Guest motivated all the students to work towards the upliftment of oneself and be prepared to serve the country.
The day finally came to a close with the felicitation of our Chief Guest and a vote of thanks by the Vice Captain, Rajatesh Pradhan.