Date: 20/7/2020
List of students selected for Provisional admission to Class XI 2020-21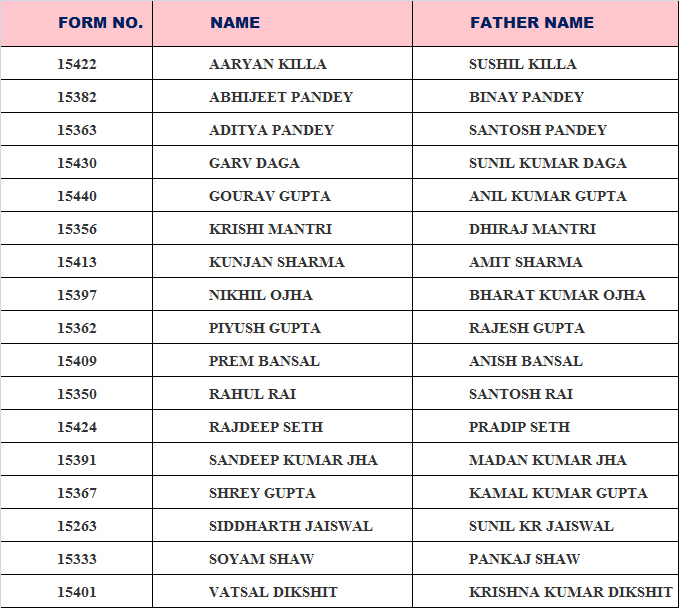 Admission formalities to be completed within 22/7/2020.
To complete the online admission formalities:
You are requested to log in to the Admissions Portal on the school website (www.mckv.edu.in) for online admission formalities.
You need to click on the Pay Admission Fees button provided on the top of the page.
Under the Admission fees button you will get the following information,
ADMISSION FEE DETAILS
UNDERTAKING OF RULES AND REGULATIONS
UNDERTAKING OF SCHOOL CODE OF CONDUCT
UNDERTAKING OF SAFETY AND SECURITY OF STUDENTS DURING TRAVEL TO AND FROM SCHOOL
MEDICAL UNDERTAKING
AGREEMENT
You will read all the documents and tick on the Box and click on Agree and Continue;
PAYMENTS:
You are advised to pay a sum of Rs. 53,950/- Admission Charges which includes the fee till the month of July.
 
      ONCE SCHOOL RE-OPENS:
After confirmation of admission, hard copy of the following documents are to be submitted at the school reception:
Duly completed Registration Form.
Medical Form with Doctor's stamp and Registration Number with all relevant reports like blood group, blood glucose (fasting and post prandial) and eye test reports (if any),etc.
Recent stamp size photograph to be affixed wherever indicated.
Self attested photocopies of the Admit Card and Mark Sheet.
Self attested Photocopy of SC/ST/OBC Certificate (if applicable).
Self attested Photocopy of the Aadhar Card (optional).
Self attested photocopy of Parent's Income Certificate (salary slip/ income tax return/ self declaration if below taxable income).
Self attested Proof of residential address (ration card/ voter identity/ passport/ latest electricity bill/ latest telephone bill - land line BSNL). In case of rented house, photocopy of lease deed/rent agreement. If living in a joint family, letter from head of family/owner of property certifying your residence.
Transfer Certificate, Character Certificate & Migration Certificate (if applicable) in original.
Any legal document pertaining to marriage status or adoption of child.
Legal documents pertaining to legal guardianship status (if applicable).
You will also be required to pay an approximate amount of Rs.7500/- ( Rupees Seven Thousand Five Hundred only) for stationery, uniform and shoes.