75 Independence Day Celebration
Published on: 15 Aug 2021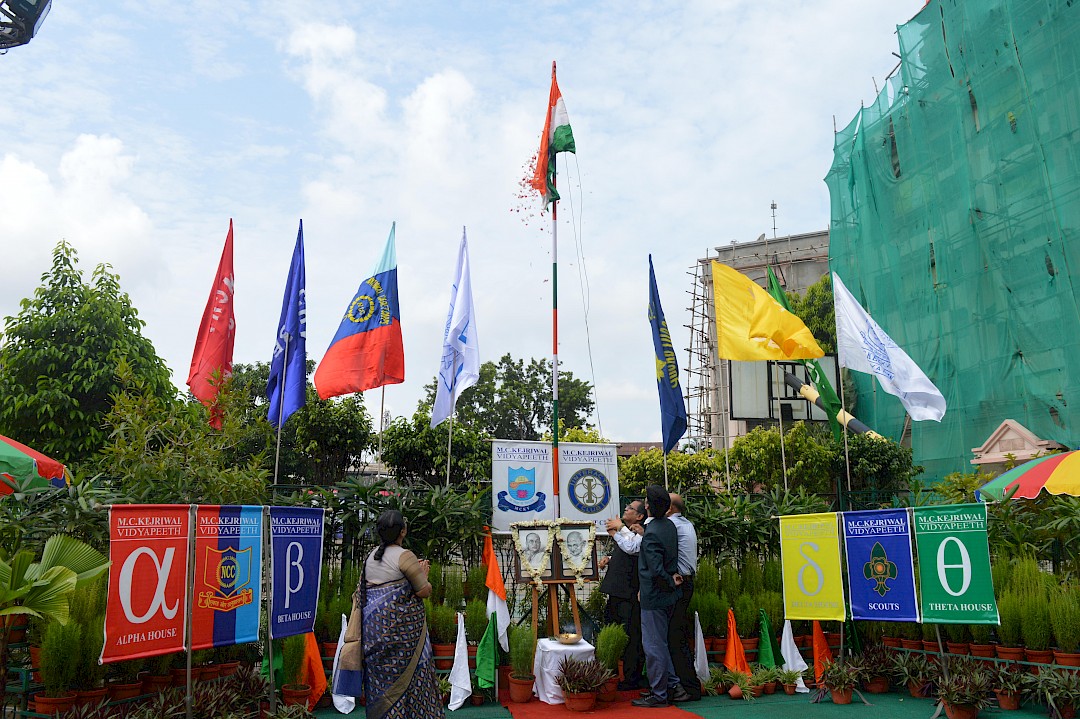 'Duty, Honour, Country: Those three hallowed words reverently dictate what you ought to be, what you can be, what you will be."
When the pandemic still continues to confine us within the four walls of our houses, it really could not dampen the patriotic spirit of the MCKVians. Marking the glory and freedom of the nation, the members of M. C. KejriwalVidyapeeth celebrated the 75th Independence Day with great enthusiasm to keep the fervour of this important day alive. This memorable day had been celebrated virtually adhering to the norms of the 'new normal'. The programme commenced with the unfurling of the 'Tricolour' by our revered Chairman, Mr.Kishan Kumar Kejriwal along with the other staff members in the school basketball ground which was followed by the National Anthem. CEO, Mr.ParthaSarathiChakraborty; Director of MCKV, Mr.Neelkantha Gupta; Principal of MCKV Institute of Engineering, Dr.AbhijitLahiriand Principal of MadhusthaliVidyapeeth, Mr BitanBiswas joined us virtually to be a part of the celebration. A live broadcast of the flag hoisting ceremony was done through the virtual medium.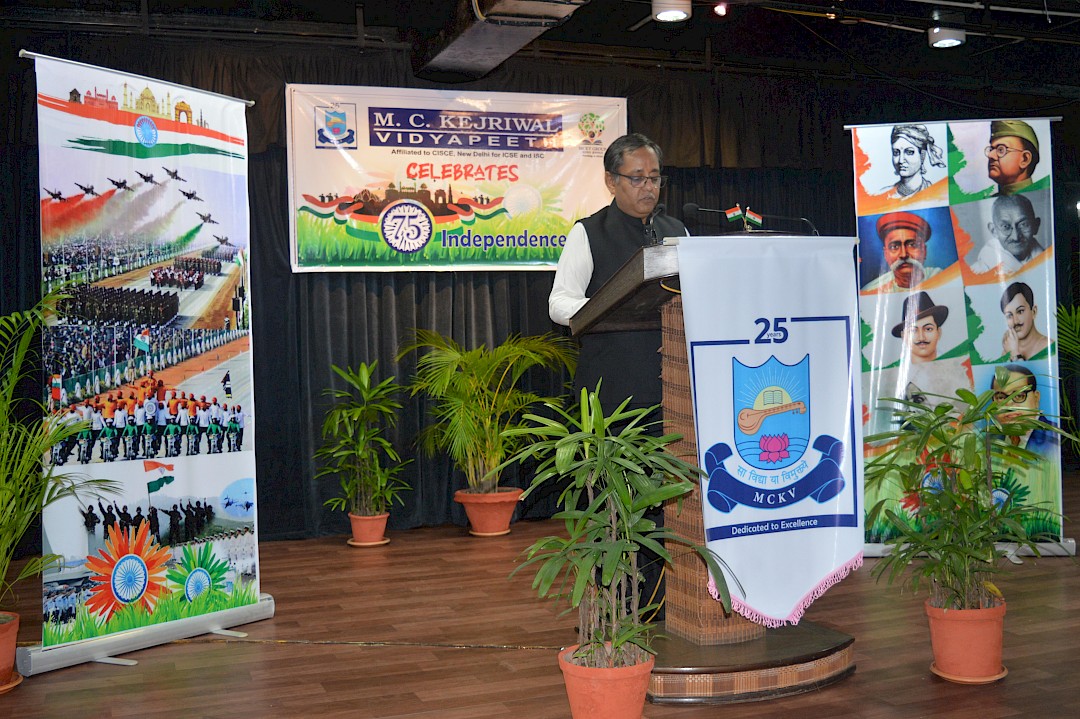 The programme continued virtually, beginning with the inspiring words of our Chairman, Mr Kishan Kumar Kejriwal followed by an invigorating speech by the School Captain, Md. SahidDayer who stressed on the true meaning of freedom and the role of youth and their duty towards the nation. A splendid patriotic mash up on the songs 'DeshRangila' and 'Jai ho', presented by the students of Classes 3 to 7,  heightened the spirit of nationalism. Students of Classes 1 to 12,with a spirited medley of songs like 'Chalechalo', 'Bharat humkojaan se pyara', 'Chak de'truly ignited the fire of patriotism and filled our hearts with pride and honour for those heroes who earned this freedom for our motherland.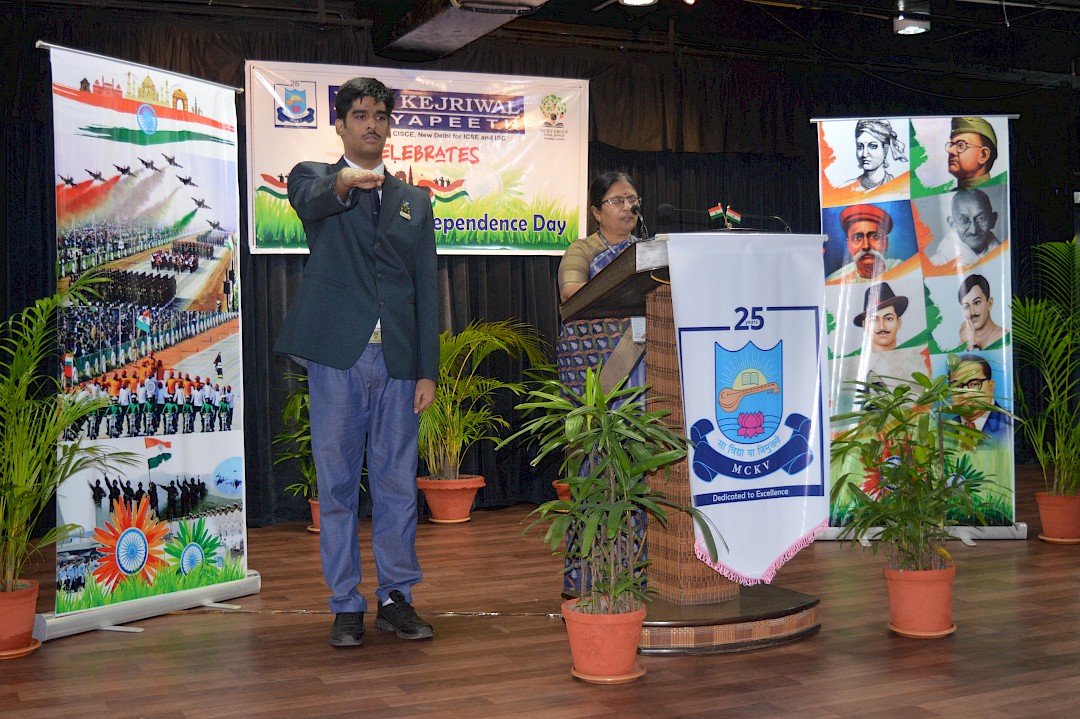 The special attraction of the day was of course the oath taking and Investiture Ceremony, whereby, the newly elected members of the Student Council took a pledge to be conscientious about their duty towards their Alma Mater. A pre-recorded short play titled 'The Confession' took us back to witness the historic Pre-Independence trial of the 'Alipore Bomb Case' in whichBarindra Kumar Ghosh, a revolutionary and journalist was one of the famous accused and was arrested for his conspiracy against the British Emperor. Aritra Roy Chowdhury as Magistrate Birley and HitenGolchha as Barindra Kumar Ghosh brilliantly portrayed the scene before us.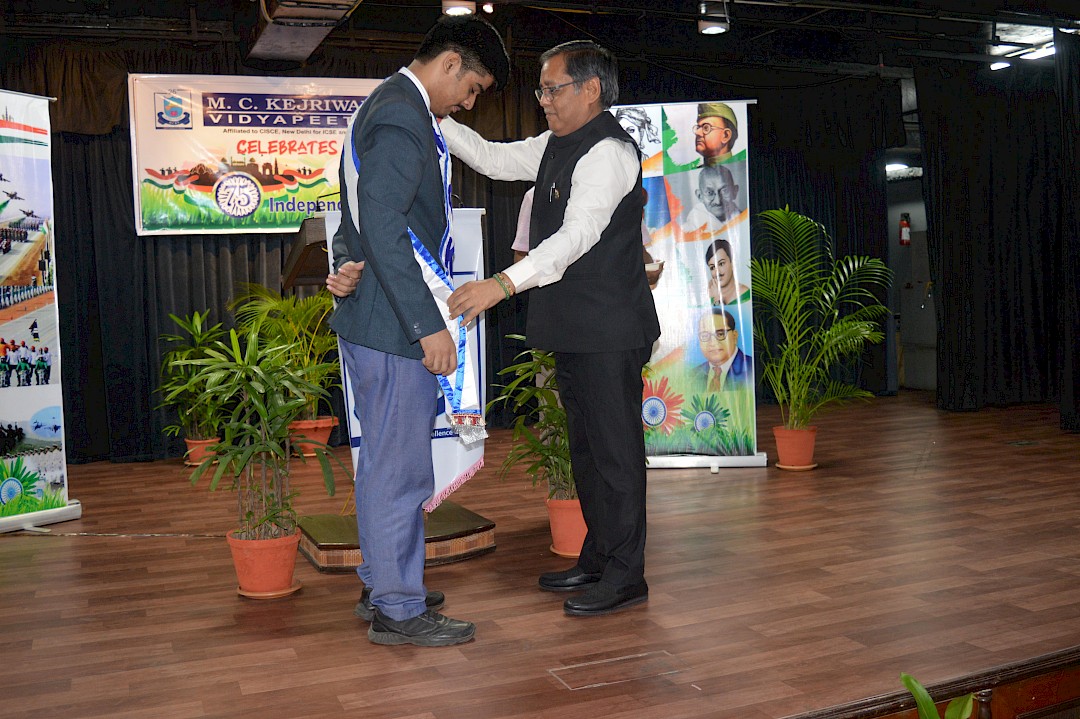 On this day, the school also acknowledged the winners of the various inter-house competitions through a power point presentation. An enthralling instrumental rendition of the song 'Chhoro kaal ki batein' by the talented musicians from various classes mesmerised the senses of the audience. The day's programme came to an end with the vote of thanks proposed by the school Vice Captain, Hiten Golchha.
It was indeed a day to rejoice, a day to love and respect not only those who dedicated and sacrificed their lives but also those who are still striving hard to make India a better place for us to live in and experience freedom, peace and unity in diversity.