Decoding the sky: MCKV organises a stargazing evening
Published on: 01 Feb 2023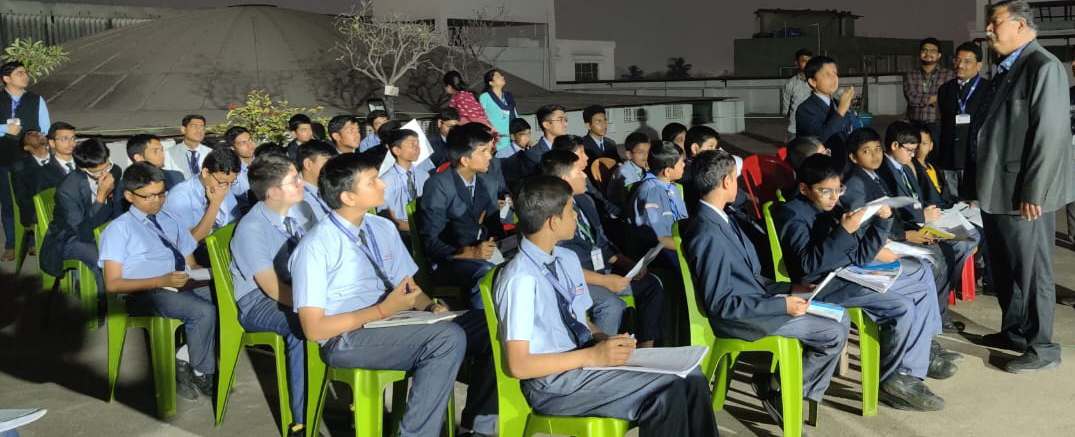 Admiring the beautifully lit sky is often a gateway to a lifelong astronomy education. In its first-of-its-kind endeavour, a sky gazing session was organised on the MCKV terrace on the evening of 31 January 2023 for the students of Classes 6, 9 & 11 by the MCKV Astronomy Club.
The school, in association with The Institute of Astronomy Space and Earth Science (IASES), in its pilot attempt, planned this special night.
It was a great privilege  to have Mr. Palash Chatterjee, a faculty member of the Mathematics Department of Sri Ramkrishna Sikshalaya, Howrah, with us during the session. His profound interest in the field of Astronomy was reflected in his address to the enthralled audience. The presence of our Director, Mr.Neelkantha Gupta; Principal, Mrs.Mallika Mukherjee and Headmaster, Mr.Biswajit Majumdar boosted our young participants.
The 'star' attraction of the evening was  Dr. Debiprosad Duari,  a renowned astro- physicist and  former Director of M.P. Birla Planetarium, Kolkata. He is presently the Director of Institute of Astronomy Space and Earth Science (IASES), Kolkata. He is also a member of our Advisory Board. His incredible knowledge and lucid explanation left us all spellbound.
Though the weather played spoilsport, the students were overjoyed at the prospect of  discovering the universe and admiring the wide expanse of the sky. The parents were happy such an event was organised.
The beautiful evening was a tiny step towards introducing our boys to the marvels of the universe and helping them define their dreams.