MCKV Model United Nations 2022
Published on: 16 Oct 2022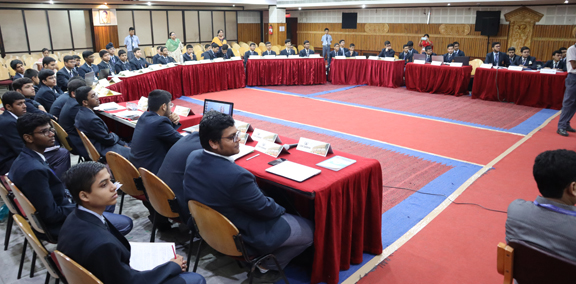 The Model United Nations is an excellent platform to stimulate political thought and dialogue among students all over the world. With the intent of empowering our students to become constructive change makers and dynamic leaders of the future, the MCKV MUN Club organized a Lok Sabha Intra- School Model United Nations on 14 and 15 October 2022.
The school auditorium came to life with young leaders from all over the country debating on diverse issues such as India's foreign policy or weighing the pros and cons of the concept of 'Atmanirbhar Bharat'. Hiten Golchha, the Chairperson, marvellously moderated the entire discussion. He was ably supported by Raghav Mandhana , the Vice Chairperson, and  Chyan Dugar, the Director of MUN 2022.
 The grand opening ceremony began with our Director, Mr.Neelkantha Gupta inspiring our young participants to put their best foot forward. As the banging of the gavel resonated through the hall, over 50 odd delegates prepared themselves for conscientious debate. Following an open floor, the delegates overflowed in fervid excitement with mutual criticism of policies of the ruling party and the opposition. It was truly a delight to witness our students engage in political analysing and find innovative solutions to problems that rack the nation.
The event concluded with our Headmaster, Mr. Biswajit Majumdar, congratulating the entire MUN Team for such an outstanding show. Yug Patwari  of Class twelve was adjudged the Best Delegate for  MCKV MUN 2022.
Besides providing our students an unprecedented learning exposure, the event taught our students how to come to a consensus and recommend a solution to the agenda at hand. Most importantly, our boys learnt the value of research, interpretation, deliberation, and effective communication- essential life skills, we cannot do without in this age and time.